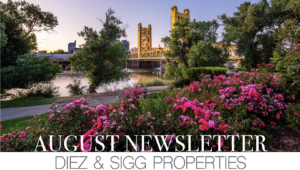 Summer may be winding down but there's still lots in store for residents and visitors alike! Soak in the last of summer with an exciting lineup of concerts, food festivals, River Cats games, airshows, and more. This month, we also explore the current real estate market where things are (finally!) starting to look up for buyers. Last but certainly not least, we're sharing 2021's top fall decor trends to get your home ready for the new season…because it's never too early to stock up on seasonal candles and cozy blankets right? Read on for the full scoop.
Click on the below links to see what local events are taking place now through the end of September!
August 20th (And Select Days): Live Music at Crawdads on the River
Now-September 31st: Front Street Water Carousel & Waterfront Wheel in Old Sacramento
Select Weekends (Friday-Sunday): Old Sacramento Underground & Time Travel Tours
August 27th: Tahoe Park Food Trucks 
September 5th: Chalk it Up 2021
September 9th-18th: Farm to Fork Festival (In Person)
September 9th: Legends of Wine
September 10th: Joe Rogan @ Golden1 Center
September 11th-12th: Sacramento Grilled Cheese Festival
September 11th (Every Second Saturday): Dance on the Edge @ Old Sacramento Waterfront
September 11th: Alejandro Fernandez @ Golden1 Center
September 12th: Tower Bridge Dinner 2021
September 18th: Country in the Park 2021
September 18th-19th: 2021 Crawfish & Catfish Festival 
September 24th: Tahoe Park Food Trucks
September 24th-26th: California Capital Airshow
September 29th: Gold Over America Tour: Starring Simone Biles
Carmichael:
Fair Oaks:
August 26th & September 30th: Concerts in the Park
August 27th: Comedy Under the Stars
August 28th: Theatre Under the Stars
Rancho Cordova/Gold River:
Folsom:
El Dorado Hills:
Every Sunday: El Dorado Hills Certified Farmers' Market
Every Thursday: Live on the Boulevard at El Dorado Hills Town Center
September 19th: Gold Country Run & Sport 5K
Elk Grove:
Roseville:
August 19th: Food Truck Mania
August 20th & September 17th: Friday Flicks at Vernon Street Town Square
August 21st & September 18th: Concerts on the Square at Vernon Street in Roseville
Rocklin:
Now-September (Select Days): Concerts at the Quarry
August 27th & September 24th: FREE Farmers Markets at Johnson-Springview Park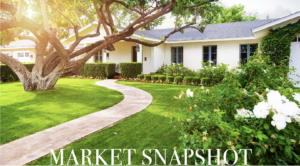 Low inventory in markets across the country have been driving up prices and creating bidding wars, making it extremely difficult for many potential buyers to successfully find and purchase homes. But it looks like things are (finally!) starting to look up for buyers.
According to realtor.com's Monthly Housing Report for July 2021, while inventory is still low, more homes are starting to hit the market. New home listings were up 6.5 percent nationally year-over-year—and up even more (11.1 percent) in large metro areas. The more homes that become available, the more options there are for buyers—and the more the market shifts in their favor. In Sacramento, the active listing inventory went up 23.5% from June to July of this year according to SAR!
"July housing trends show a market still working its way back toward some version of normal. The feverish pace of home sales is beginning to follow historical seasonal patterns, while new listings grew at an unusually high rate for the summer months, further helping the inventory crunch," Danielle Hale, chief economist for realtor.com, said in a recent press release. "This is shifting the housing market balance in a more buyer-friendly direction."
So, what does this mean for you? If you've been struggling in your home search, the new inventory hitting the market could make it easier to successfully find and purchase a home—so get out there and start looking!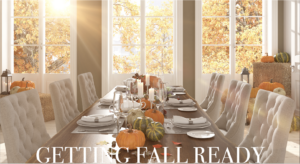 If you're thinking about doing a bit of re-decorating to get your home ready for fall (which officially starts on September 22nd), make sure you're on-trend by embracing all things cozy! Here are some of the top fall decor trends for 2021.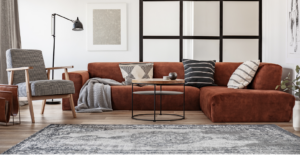 Velvet: It's time to bring on the velvet! As far as upholstery is concerned, fall's biggest trend is velvet – and we couldn't be happier since this texture is perfect for creating a cozy, fall-ready ambiance. Think in terms of velvet layers, like the pillows and sofa pictured above. And don't be afraid to embrace bold, cooler colors.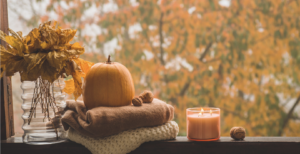 Leaves & Textures: Fall is synonymous with warm colors and cozy textures. Consider adding pumpkins and fall leaves to dining tables and family rooms to help bring that fresh fall feel into all areas of the home. You can also get creative with textures – from textured pillows, blankets, and even tabletop items such as figs and cotton – the sky is the limit!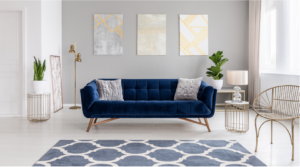 Tarnish Accents: Cozy goes beyond fabrics and upholstery. When redecorating your home, consider incorporating distressed metals into your design to bring that soft glow into your home. Think accent tables, wall shelves, candle holders and centerpieces.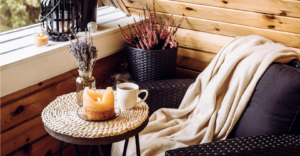 Candles: It's hard to imagine with the recent heatwaves, but once the wind picks up and the leaves start to fall, candles will be sure to bring that warm and inviting feeling into your home – they also serve as beautiful decor and fill the home with cozy scents. Place a few votives on the fireplace, entryway table or outdoor patio to illuminate your home and add a touch of elegance.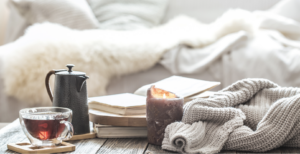 Chunky Knits: It should come as no surprise that the arrival of fall will bring knits in every form– from sweaters and scarves to throw blankets! Knit throw blankets and pillows are a fall design favorite, but they can also work year-round when kept in neutral shades like creamy white or soft brown. You can also layer rugs, throws, and pillows along with warm colors to bring coziness into all areas of your home.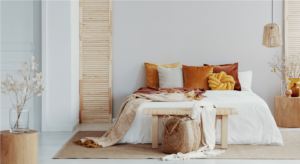 Pumpkin + Chocolate: Step aside pumpkin lattes because sweet is taking on a whole new meaning for your fall decor. Consider incorporating touches of orange and brown, in shades such as pumpkin and chocolate, to warm up any room in your home.